Dr. Elias Rubenstein
Senator h.c. Dr. Dr. h.c. Elias Rubenstein MSc. is entrepreneur, author, lecturer and artist. He studied "Leadership and Management" and promoted in economics (research area "Transformational Leadership"). For his outstanding performances and superb achievements, he has been awarded the university title of an honorary Doctorate and the academic accolade of the honorary senate. Further, he was honored with "Amabassador for Peace" by the Universal Peace Federation.
Elias Rubenstein is sovereign Grand Master of the Order of the Martinists, tracing back to Marquis Louis Claude de Saint-Martin, and also guards the legacy of the French initiatory high-grade order of "l'Ordre de Chevaliers Maçons Élus Coëns de l'Univers", founded by Don Martinez de Pasqually in 1765. Moreover, the Rosicrucian Order is under the protectorate of Elias Rubenstein. In his capacity, he thereby promoted the teachings of the "Ageless Wisdom" to become accessible for a broad circle of interested people in the Hermetic Academy.
His publications and works comprise the doctrines and symbols of the Kabbalah, Hermeticism, Jewish and Christian Mysticism (Gnostisicm), spiritual Alchemy, Initiation and the mysteries of the Rosy Cross and Martinism.
Dr. Elias Rubenstein – The Power of Rituals
A lecture, translated from German, originally given by Senator h.c. Dr. Dr. h.c. Elias Rubenstein in Vienna Austria (2018).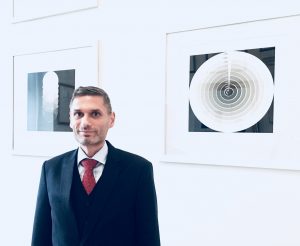 Hermetic und Kabbalah Art in our Web-Shop
In our Web-Shop you can buy mystical Christian and Jewish Artwork from Elias Rubenstein.
Limited Art Prints. The term "Hermeticism" comes from the name "Hermes." In Greek mythology, Hermes is the intermediary between mind and matter. Hermeticism holds methods for unfolding spiritual abilities in order to understand the meaning of existence, to become connected with the spiritual light, and to build an inner, permanent relationship with the Creator of the All.
The Hermetic wisdom tradition has kept proven tools for the spiritual unfolding of mankind for thousands of years. It also holds verifiable answers to the most important, fundamental questions in life.